About Imo State Education Portal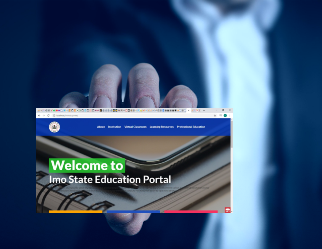 The primary purpose of this portal is to help prepare our students for the inevitable technology-driven future and make them as competitive as their peers in other progressive States and nations. The secondary objective is to support stakeholders in our education system, to embrace the new normal, which includes;
1. Helping existing academic programmes to kickstart, complete the semester and do their exams online.
2. Introduce blended learning into all higher education institutions in the State starting 2020.

3. Help boost DISTANCE LEARNING AND CONTINUING EDUCATION in the various institutions
Blended Learning: Strategies for Engagement
Good educational technology integration is not about using the fanciest tool, it's about being aware of the range of options and picking the right strategy or strategies.
There are methods and models for implementing blended learning - from the flipped classroom, to the flex model. All of them are on the continuum of just how much time is spent online and in the online classroom. Blended Learning is a hybrid model that combines face-to-face teaching with online learning. It also provides a unique opportunity, of not only engaging students in collaborative work and projects, but also personalizing and individualizing instruction for students.
However, there is still one piece that is missing from a great blended learning environment: engagement!
1.
Leverage Virtual Class Meetings with Collaborative Work: One of the most prominent features of blended learning is the virtual meeting or synchronous class meeting. Sometimes teachers spend the entire class meeting in a virtual meeting room lecturing and presenting content. The irony is that this meeting is often recorded, and available for students to watch later (so students can watch the meeting on their own time). Instead, use the time that you have with the entire class to problem solve together, collaborate on projects, and use virtual break-out rooms for guided practice. If you want students to be engaged in the class meetings, it must be meaningful. Collaborative work can be meaningful when students problem-solve together, plan, and apply their learning in new contexts.
2.
Create the Need to Know: The key here is an engaging model of learning. Teachers can use project learning to create authentic projects where students see the relevance and need to do the work - whether that work is online in the physical classroom. The same is true for game-based learning. If students are engaged playing a serious game about viruses and bacteria, then teachers can use the game as a hook to learn content online or offline. Through metacognition, and the "need to know" activity, students "buy-in" to the learning -- no matter when and where that learning occurs.
3.
Reflect and Set Goals: Related to the comment on metacognition above, students need to be aware of what they are learning as well as their progress towards meeting standards. Teachers need to build in frequent moments, both as a class and individual, to reflect on the learning, and set S.M.A.R.T. goals. Through these measurable and student-centered goals, students can become agents of learning, rather than passive recipients. Use reflecting and goal-setting both online and offline to create personal connection to the learning and personalized goals.
4.
Differentiate Instruction Through Online Work: In a blended learning classroom, there is often online work that needs to occur. This might be a module on specific content, formative assessments, and the like. However, students may or may not need to do all the work that is in a specific module. In an effort to individualize instruction, use the online work to meet individual students needs. Whether an extension of learning, or work to clarify a misconception, the work that occurs online can be more valuable to students when it is targeted. Students are no longer engaged in uninteresting busy work, but focused, individualized learning.
5.
Use Tools for Mobile Learning Where Possible: The great thing is that blended learning can partner well with many strategies and apps. If you use the flipped classroom model, for example, apps like the Khan Academy, BrainPop, and YouTube are incredibly useful. Leverage the flexibility of where students can learn, having them learn outside the four classroom walls. Use scavenger hunts, Twitter, and back-channel chats to engage students in a variety of mobile-learning activities to support your blended-learning model.
6.
Content is King: We cannot overemphasise the need to reflect on your content prior to release. Teachers or Lecturers must take advantage a variety of audio-visual content to enrich the learning experience of their students. Always keep your eye on the curriculum and be aware of the learning objectives for each Module. This provides a back-drop as your source of content that helps re-enforce achievement of the intended learning outcomes. A simple Google search can provide you with a variety of options. We must however suggest that you acknowledge and reference your sources.
Successful blended learning educators and schools are focusing on engagement as they work towards student achievement. We have the unique opportunity to not replicate a system that has not served all students. Instead, we need to look at flexible time and place to innovate through blended learning.
Vision
Our vision is to help set the national standard for the integration of technology in education.
Mission
Our mission is to become the go-to place for a best-practice example of how technology can provide a hybrid framework for improved quality and continuity of education.
Objective
The primary objective of this portal is to help prepare our students for the inevitable technology-driven future and make them as competitive as their peers in other progressive States and nations.

The secondary objective is to support stakeholders in our education system, to embrace the new normal.

• Helping existing academic programmes to kickstart, complete the semester and do their exams online.

• Introduce blended learning into all higher education institutions in the State starting 2020.

• Help boost DISTANCE LEARNING AND CONTINUING EDUCATION in the various institutions